Go Robot Ltd – Ruthlessly Effective Internet Marketing
An effective Internet marketing or online marketing strategy is an essential part of any business, promoting your products and services over the Internet. An Internet marketing strategy will usually encompass many marketing techniques, from the creation of Search Engine Optimised written copy, direct electronic marketing via newsletters, referral marketing, content marketing, on page Search Engine Optimization (SEO), targeted Search Engine Marketing (SEM), Social Media Marketing and Display Remarketing.
Our 'Buzz' ..
Now, we don't want to scare you …. but the Internet is a fast and ever evolving entity.
As Internet marketers, we have to stay current and 'on the ball', we have to distinguish the facts from the fads and we have to tailor all of the incredible lead generation opportunities that we have at our disposal into distinct, effective marketing plans for our clients. It's not a 'one size fits all'.
Situated in Rotorua, in the glorious Bay of Plenty, our talented team of experienced website builders, marketing experts and technical support professionals 'buzz' is to work with progressive businesses and partner with them to help them achieve their business goals.
Our focus on attention to detail and our experience in "best practice" quality processes ensures our clients receive the end product or services they rightly deserve.
Royston Bartholomew
Our Director,
Roy
Bartholomew has been working with the web since before it was cool! An Astrophysicist by training, Roy has been using the Internet from it's early days of academic and government exclusivity, right through to the social and commercial 'beast' that it is today.
With over 10 years experience offering Rotorua Web Design services and over 20 years of and Internet marketing experience, continual up-skilling, personal business experience and a passion for applying new technologies to business.
Doug
Doug
is the brains of the outfit and is our techy 'all rounder'. If anything needs researching… call Doug. If anything needs configuring… call Doug. If anything needs linking to something else… call Doug. If anything breaks… blame Doug.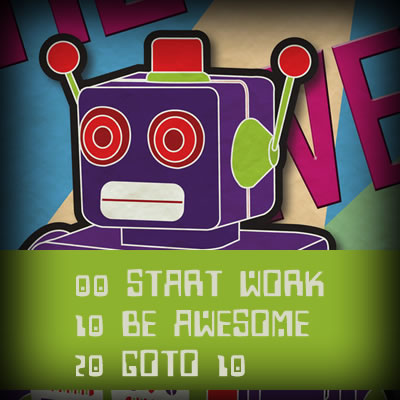 Join the GoRobot Team
Due to the fabulously awesome work we're doing, we're in high demand. We're currently seeking to contract
Sales & Account Managers
for Auckland & The BOP / Waikato.
We're also expanding our small and flexible team of Internet Marketing & Web Development superstars. We're a relaxed friendly bunch who are fuelled by web excellence and putting a big ol' smile on our client's faces. So if you live a 'be good, do good' philosophy, want to be part of a great team, show us what you can do. Links for a chit chat are in the usual place.
Some of the latest and hottest Internet newsy type stuff.
One of the reasons the team at
Go Robot Ltd
love what we do, is because we love learning almost as much as we love web development.
We love the Internet
and the whole damn techyness of it all! It's an
ever changing 'web' of opportunity
for our clients and we love squeezing the best out of the web. Here are just some of the latest innovations and technology trends that our loving little Internet loving planet throws at us..
So much news
Welcome to our little 'smorgasbord' of Go Robot website project launches, important Google news and snapshots of the hottest trends on the Internet right now. We know you're busy people, so the latest 10 snippets can be found over there on the left. If you're a social animal, we'll happily feed you the latest updates if you like and +1 our Facebook and Google+ pages respectively.
An Insanely Affordable Internet Marketing Investment
So you want us to engage an Internet Marketing Strategy … so how big does the budget have to be? Well, first off targeted, effective Internet Marketing isn't an expense, like a simple power bill or a bag o' nuts & bolts ….. it's an investment. It's a chunk of resources dedicated to generating leads and driving more of the right kind of business to your door. We excel at working with businesses to put together manageable and measurable strategies that adapt to the needs and capacity of the business. We'll find something that works!
Any investment will pay for itself and then some
.